Jupiter Pubs
Custom lettered brand identity logotypes for Jupiter pubs in Berkeley and Walnut Creek, CA. Originally done for their Berkeley storefront neon sign, the script version was done first in ink on posterboard, then I rendered these digitally for print advertising.
The client subsequently has used the script logotype extensively for their identity including social media, website, advertising, billboards, menu, glassware, coasters, wearables, keg labeling and large-scale advertising graphics on delivery trucks.
The initial client request was for a logo script with a nostalgic, European appearance.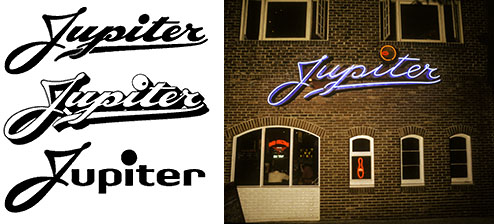 Above Left:
1. Jupiter Berkeley
2. Jupiter Berkeley
3. Jupiter Walnut Creek (closed)

Above Right Photo:
Jupiter Berkeley